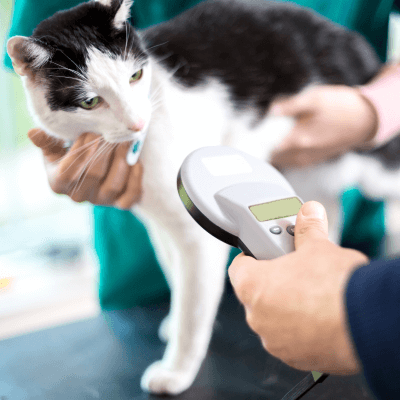 Microchipping your pet is one of the best ways to ensure that they return safely if they get lost. Microchips are permanent forms of identification guaranteed to last a lifetime. They're statistically the best option to ensure their safe return.
Did you know that a microchipped dog is twice as likely to be reunited with its owner than one without a chip? For cats, that figure jumps to twenty times more likely! If your dog or cat gets lost, anyone can take them to a veterinarian or animal shelter, where they will scan the chip with an electronic wand. In order for your pet to be in the database, it's crucial to register the chip with up-to-date information. You will be notified by your registration company if your pet's chip is scanned and found to be both in the chip database and registered to the owner.
The procedure is virtually painless; unlike collars and tags, microchips can't fall off or get lost. Microchipping ensures that even if someone finds or steals your dog or cat without tags or collars on them, they will still be able to be returned safely. And, considering that only 17% of lost dogs and 2% of runaway cats make it back to their owners, don't you want to take every precaution you can?
If your pet has yet to be chipped, give us a call at 215-766-0388 to request an appointment today!